Results of the ABM Referendum

The ABMReferendum was held at the Weston Studio of Royal Academy of Arts, London, from 16th June to 4th July 2021
(An analysis of the poll process and the results will be published soon)

A majority voted to abolish the British Monarchy by 65.2% to 29.7%

Abolish won the majority of votes at the Royal Academy of Arts, London,
during a voting period of two weeks and a half (16th June to 4th July 2021)
A total of 1313 people voted for the Abolition of the Constitutional Monarchy in the UK
A total of 598 people voted for keeping the Constitutional Monarchy in the UK

A total of 104 ballots were invalid/illegible votes

A total of 2015 ballots were used by voters
An indeterminate number of ballots were taken by visitors as a souvenir
A total of 5000 ballots were printed for this occasion

A total of 5292 people visited the Royal Academy of Arts Degree Show


A total of 2015 people stopped to vote at the ABM Polling Station

A total of 3277 people didn´t vote at the ABM Polling Station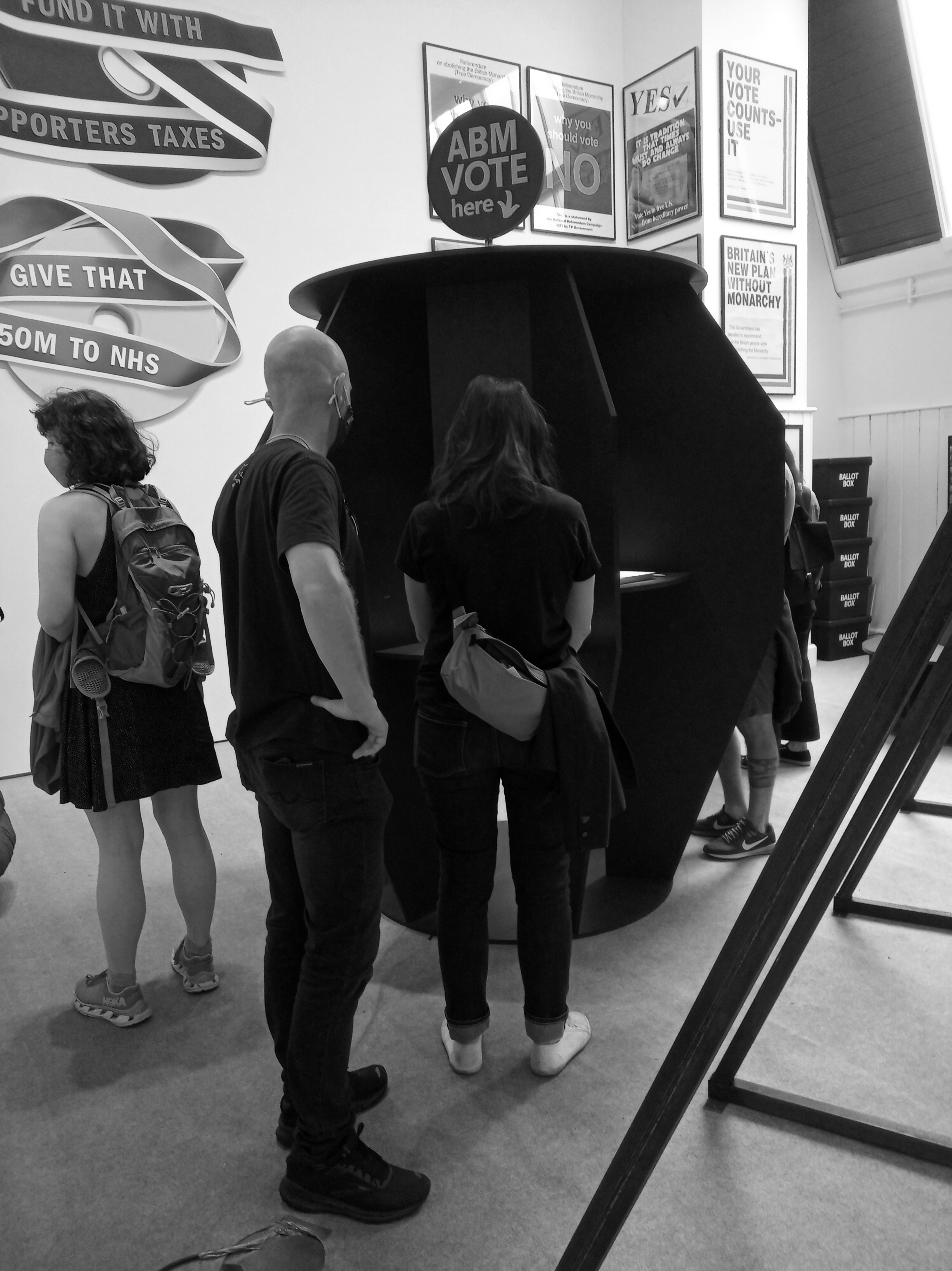 Some of the visitors at the ABM Polling Station / June-July 2021 / Royal Academy of Arts, London



ABM ballot slip counting process



Historically, the abolition of the monarchy is not an exceptional event. It has occurred in various ways: abdications, legislative reforms, revolutions, coups, decolonization ... Abolition became more frequent in the 20th century, with the number of monarchies in Europe falling from 22 to 12 between 1914 and 2015, and the number of republics increasing from 4 to 34.

This non-exceptional character of the abolition of the monarchy is what has led to formulate the possibility of this symbolic referendum. The current post pandemic crisis in British territory, together with the boredom of the residues of the old power structures and of some of the abusive bad practices that the members of the British royalty have not been able to hide, demand tools that allow citizens to express their opinion to the respect.



For this reason, in this very complex year 2021, we launched this symbolic poll for the Abolition of the British Monarchy. The basis of democratic societies is established on the concept of equality, which is directly confronted with the privileges inherent to the monarchy (diplomatic and sovereign inmunity of the Queen, Royal Assent for the passing of bills at Parliament, etc.). In order to achieve a fairly distributed social and economic balance, it will be essential to eliminate undemocratic and hereditary institutions, incompatible with a democratic state. The time has come to address this and other issues that still are seen as a taboo or a lost cause.

For these reasons, which are expanded and detailed in abmreferendum.co.uk, the Referendum for the Abolition of the Constitutional Monarchy in the UK was celebrated in London in 2021.

.
Pile of ballot slips in the ABM Voting booth